The Bonds of Motherhood
Date Submitted: Aug 7, 2018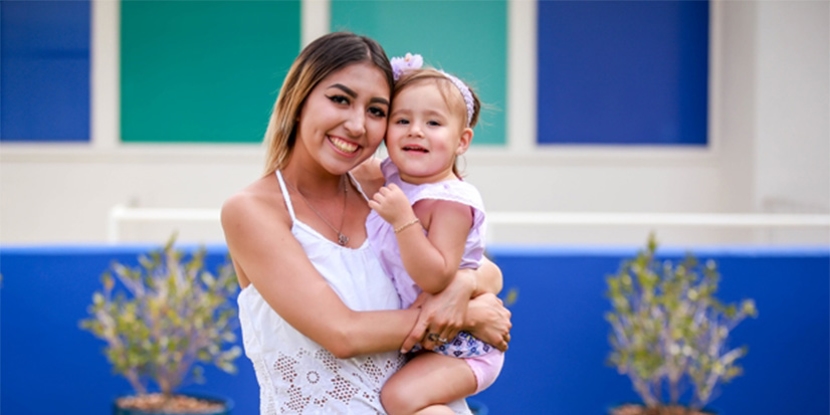 " One moment, Ashley was happily pregnant and healthy. The next, she was fighting for her life—and her baby's."
Ashley Villegas
Ashley Villegas was in her third trimester when she started feeling like she had a sore throat. She figured it was no big deal, until her temperature reached over 100 degrees. She went to a doctor right away, worried about her baby's health. She was told it was nothing to be worried about—just a fever related to her sore throat that would go away with some antibiotics.
Days went by, and the fevers persisted, reaching 103, then 104 degrees. She returned to her doctor, where she was told she needed antibiotics. Finally, her mother, Martha Villegas, convinced her to go to a medical facility, where they told her the fevers were likely related to a urinary tract infection, which is common in the third trimester of pregnancies. They treated her and sent her home.
The pattern continued for two months. Ashley would feel sick, she would see a doctor, receive a diagnosis, go home, and start to feel better again with the prescribed treatment. Then she would start to deteriorate again, rapidly becoming even sicker than before.
Seeking Answers
On April 9, 2016, Ashley began hallucinating. Her fever was extremely high and wouldn't break, so her mom drove her from their home outside of Bakersfield to Kern Medical. That's when Dr. Arash Heidari got the call about Ashley.
"Based on her presenting symptoms, I was immediately concerned," said Dr. Heidari, a leading infectious disease physician at Kern Medical. "At this point, we knew she had meningitis, but to me, it also sounded like she may have Valley Fever."
Valley Fever, or coccidioidomycosis, is a fungal infection caused by spores in the soil. When contaminated soil is stirred up, the fungus is inhaled, which can cause the illness.
Most people won't get sick, and many who do are able to combat the illness, without medication. In these cases, symptoms will disappear on their own. In some cases, however, the fungal infection can spread to other parts of the body, creating a much more serious condition. This was the diagnosis for Ashley. What followed was a delicate balancing act to save both mom and baby.
A Complicated Diagnosis
Dr. Heidari determined that Ashley had meningitis from Valley Fever. This is what made her case so difficult.
Upon evaluation, Dr. Heidari discovered that she had an even more unusual condition: the Valley Fever was in her vocal chords, a rare location for the disease. It had then spread throughout her body, including to her brain, bones, and eyes. In addition, the meningitis had escalated to the point of causing " I wouldn't be here today without Kern Medical. " seizures, further complicating her condition.
The most important complication to Ashley's treatment was her pregnancy. Many medications for treating Valley Fever would be toxic for the fetus, causing birth defects. On April 11, 2016, the team made the decision to induce labor early. Ashley was 32 weeks pregnant.
Thanks to a team of Kern Medical experts, Ashley's baby was delivered with no complications. Baby Kayleen Kroeger arrived healthy, unaffected by the illness wreaking havoc on her mother's body.
Ashley was immediately moved into treatment for Valley Fever. Doctors implanted a shunt in the back of her head to relieve pressure and reduce swelling, a result of the illness. They also inserted a port on top of her head so that she could receive medication directly to her brain, called intrathecal treatment.
Intrathecal treatment, leading directly to the tissue surrounding the brain and spinal cord, is the most intense form of treatment, reserved for only serious cases. Kern Medical is the only place in the area where patients can receive intrathecal medications at the degree and length of time Ashley required for her treatment.
Embracing Motherhood 
Ashley received treatment five days a week for a year straight, beginning with intracranial treatment while also including intravenous medications on alternating days. Following her stay at Kern Medical, she had limited mobility and was extremely weak.
She could barely lift the baby in her earliest days of being a mother, so her mom, Martha, and the nurses would help settle Kayleen on Ashley's chest while she laid in a hospital bed, learning to breastfeed, change diapers, and care for her baby in a new way. The process of recovery was difficult, but focusing on motherhood gave her the strength to keep going.
Today, Ashley is studying to become an ultrasound technician at High Desert Medical College. She goes to school four days a week and continues to visit Kern Medical once a week for treatments. Her daughter is two years old, as happy and healthy as can be. Martha helps care for Kayleen, allowing Ashley to find balance as she follows her dreams, receives medical care, and enjoys motherhood.
"On treatment days, I still feel off, sometimes sick, but most days I feel almost back to normal," said Ashley. "The recovery process has been grueling, but I wouldn't even be here today without the team at Kern Medical."
Throughout the entire experience, Ashley focused on fighting and recovering for her baby girl. She may not have even gone to the doctor in the beginning if she hadn't been pregnant—or if her own mother hadn't encouraged her to seek better care when the diagnoses and treatments weren't working.
"I won't go anywhere else for medical care," Ashley added." No one else knows what I've been through, no one else understands. Now, my family and I will always choose Kern Medical."