Going the Distance
Date Submitted: Nov 25, 2017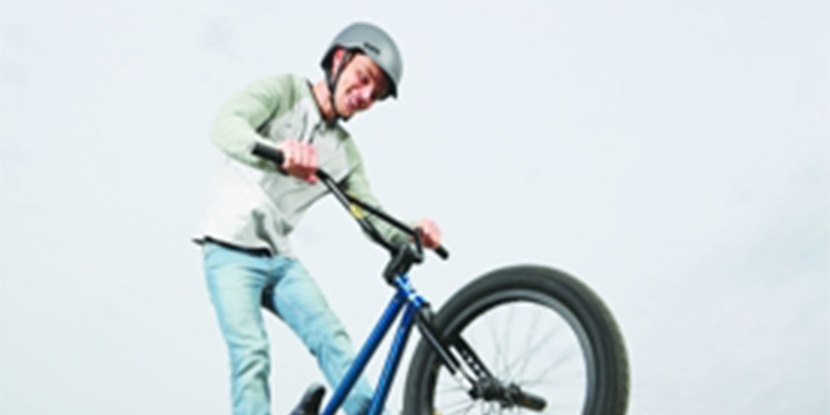 " When it came to solving the mystery of his chronic pain, Cole Young had to look beyond his backyard."
Cole Young
At age 18, Cole Young has a clear fix on his career path. He wants to be a nurse and is taking classes toward that goal at Visalia Community College.
His combination of interest in healthcare and knowledge of his own body may have saved him from permanent kidney damage.
Ever since he was in eighth grade, he had dealt with what he described as "a pain in my flank."
He's long been active in freestyle BMX and it would have been easy to dismiss the pain as a recurring bicycle riding injury. Young was sure it was more serious.
Initially, doctors thought the problem was digestive. But as the pain grew worse, Young and his mother, Kelly Germanetti, grew more concerned. His doctor in Visalia ran an ultrasound test and thought he'd detected a cyst on the kidney. He suggested Young go to Fresno for imagining on more sophisticated equipment.
That was easier said than done. Young encountered delays and didn't bond with the medical team there.
When his pain became so bad he couldn't go to class, his mother turned to a friend for help.
Germanetti is a detention sergeant with the Kern County Sherriff's Department. Her friend Margaret Johnson, is the nurse at the county jail, which contracts with Kern Medical for prisoner care. Johnson has seen the changes taking place at Kern Medical first hand.
She pointed Germanetti to the new urology team at Kern Medical and told her about the investment in a state-of-the-art daVinci Robot.
Germanetti said she was apprehensive but what happened next "just blew my mind."
After just a few nights on mom's couch, Young got in to see Dr. Vinh Trang. Tests were done quickly, confirming a congenital condition that had allowed Young's kidney to swell to more than three times its normal size.
He recommended surgery with the daVinci Robot. "The robot has allowed us to perform the surgery through small pinhole incisions vs. a very large flank incision under the ribs, which in the past meant longer hospitalization, more pain with breathing and more narcotic pain medication," Dr. Trang explained.
The decision on surgery – a pyeloplasty – was "a no-brainer," Germanetti said. And Dr. Trang was able to quickly resolve the potentially serious problem.
"It is a congenital condition and he had a blood vessel that supplied the lower part of his kidney that was aberrant and compressed this area from the outside, preventing the kidney from draining," Dr. Trang said. "With the surgery, we were able to disconnect the area that was blocked, flip the blood vessel to behind this area and sew the two ends back together over the top so the blood vessel would not compress this area anymore."
Young spent two nights at Kern Medical and used the time as a learning experience. "He talked to every doctor, nurse and intern, asking questions and seeking tips," his mother said.
He spent a few more days with Germanetti before heading back to Visalia. He was back riding his bicycle in six weeks.
Finding Dr. Trang "was a blessing," Young said.
The doctor demurs, calling the operation "routine." He said the star here is the soon-to-be nurse who knows his body and had the sense to keep looking for answers.
The whole experience was an eye-opener for Germanetti. "It completely changed my mind about Kern Medical," she said. "They understood our urgency and moved quickly. They were great."